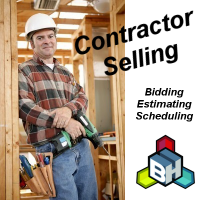 It's In The Bid
The Ultimate Conceptual Selling Challenge
Do you provide a bid, quote, or a proposal?
If you do, using a good bidding and estimating program can not only save you time and money but it might possibly increase your sales through accurate bids and satisfied customers.
Estimating and Follow-Through
Customer referrals and testimonials are the life-blood of a home project professional. Without good references, new jobs will be in short supply. Good word-of-mouth buzz will keep you busy. Delivering on your promises is how you build a good reputation.
And, a good reputation makes selling a whole lot easier.
Selling the invisible requires that you establish a greater level of trust. Other than your quality craftsmanship, being able to estimate the cost more accurately will do more to completing a profitable job on time and within budget. Fewer "surprises" will produce happier customers. And happier customers will lead to more pre-qualified leads.
A good bidding and estimating program will help you come in on time and budget and enhance your image in the eyes of your customer.
Learn more – Builder Helper Construction Management Program
---
Howard writes, speaks, and consults about sensible selling using the new media reality.

If you like this article, please +1 and share it with others…



If you liked this post - you might also like these: