Can you sell your product using social media networks?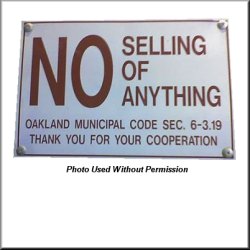 Yes, you can, but NOT in the way that most people may think. It requires an understanding of a New Sales Process. I like to call it "Subtle Selling". Today's sales rep is more like yesterday's sales clerk. If you don't understand how the shift is taking place, you may be wondering how your new, young competitor took away your old established clientele.
Social Media is a part of the larger category of New Media tools. It is an area where you must be very careful if your primary goal is to sell more. Don't think of it as a giant audience to throw your marketing message (translated sales pitch) out into the crowd. Think of it more like any other giant audience where you are gathering with many people for something in common. Let's say, hanging out in the mall, while on a break from the store where you work located within the mall.
You don't immediately enter the crowd giving out a sales pitch and your business card to everyone you encounter in the food court, do you? No, but through small talk, conversations, and chance meetings, you may sometimes encounter a potential customer that you will make a subsequent appointment with to explore a business dialogue or extend an invitation to meet you back at your store.
The Social Media area of the New Media is a listening platform, NOT a selling platform.
Use it to engage people. Grow your network. Give generously and people will follow you (hopefully back to your store). Some may become fans and others may even become friends. But leave the selling activity to step number 5 in the New Media Sales Process.
The New Media includes lots of different tools to communicate and market your message. Business websites (your store), blogs (your community involvement), and customer search capabilities are the key elements to providing a place to tell your story and share the benefits of your product or service. The social media sites are where people gather outside of the business "stores". Think of them as the common areas of the mall.
A facebook profile page is like your home whereas a facebook page is more like your blog. And, Twitter is like the conversations in the common area among the stores. Use discretion while you blurt out your message. You can display your product in the store front window where people can see it and choose whether to enter your store, but if you "get in their face" out in the common area, you might cause more harm to your brand and actually chase away a potential customer.
Twitter can also be used like the classified ads of the past with a large category of the personals section taking center stage. You need to be clear in the type of ad you are posting. Is it to announce a garage sale or to make a new connection for a date? Either way, be aware of the lines you cross and watch your behavior to be effective.
It may help to compare the old sales process to a new one. Sales Reps used to managed the process, whereas today, the customer is in control. You can use either as your sales strategy, but sell appropriately with a sensible marketing strategy. Here are 7 Steps of the old sales process compared to 7 steps of the new sales process.
Old Sales Process vs. New Sales Process
Sales Rep Gets Leads vs. Customers perform online search for wants and needs.
Sales Rep Qualifies Leads vs. Customers research their favorite choices from what they found in initial search.
Sales Rep Makes Appointments vs. Customers follow and watch their favorite vendors visibly or silently.
Sales Rep Presents Product/Service vs. Customers decide what they want before first contact (maybe even trial or test an offering).
Sales Rep Questions and Handles Objections vs. Customer invites vendor to take order their order.
Sales Rep Closes the Sale vs. Customer becomes a fan through a satisfactory experience.
Sales Rep Moves on to next Lead vs. Customer posts public review of his/her experience with the vendor, good or bad.
With a better understanding of the new sales process, the sales rep of today might be better served to re-allocate his/her time expenditure towards more marketing in the New Media and less pushy selling activity in Social Media. In the past (pre-internet era), the customer was dependent upon 2 or 3 sales reps to educate him on the benefits of their solution to his problem. Today, the customer usually knows more about the product the sales rep is selling than the sales rep does.
Today's sales rep has become more like yesterday's sales clerk who waited in the store for the customer to enter. The sales clerk function was not so much to educate the customer, but more to guide the customer toward the best available item that is readily available for the customer to purchase now.
In addition, because people buy from people, today's challenge for the sales rep is to become the sales rep of choice when the customer is going through the first steps of the new sales process. This is why you cannot ignore the New Media and where Social Media fits into the bigger picture.
What can you do to use Social Media more effectively and become the vendor of choice? Join me on a complimentary Web Marketing Webinar where we can talk about Selling using the New Media. We will explore the many different ways to use the New Media to attract customers and sell more effectively.
---
Howard writes, speaks, and consults about sensible selling using the new media reality.

If you like this article, please +1 and share it with others…



If you liked this post - you might also like these: