Patrick Snow
Best Selling Author – Speaker – Coach

Patrick Snow has spent over ten years of his life developing this unique system that is designed to save you both time and money in your quest to achieve your publishing and book promotion goals. He is a professional speaker, publishing coach, book promotion coach, and speaker coach. His one-of-a-kind unique system, is guaranteed to help you get published within 3-18 months, and turn your book into a best-seller within 1-3 years, if you follow his system.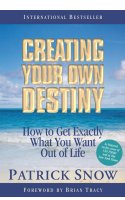 Patrick has come full circle with his book in the publishing industry. In 1996 he could not find a publisher for his book so he decided to self publish (which is the only way to guarantee you will ever get published). After a considerable investment of both time and money, Creating Your Own Destiny was self published in 2001. Over the last nine years Patrick has turned his book into an international bestseller, attracted the attention of several New York publishers and then recently signed a major publishing deal with John Wiley & Sons.
Learn more about Patrick at Creating Your Own Destiny website.

I visited with Patrick in a recent BizChatz Radio interview that took the place of a monthly Author-Publisher Roundtable event. We talked about 7 of his 52 Strategies to Market Your Book and become a Best Seller. It's about a 20 minute interview and you can hear it now free of charge.
How Do I Market My Book To Become A Best-Seller?
Register here to receive complimentary instant access to a replay of that webcast.