The Sales Process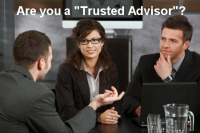 In a typical sales process, you must establish a rapport or relationship with your prospective customer to help establish a feeling of trust before a transaction usually takes place. Since the popularity of the Internet, people research online prior to and during a purchasing cycle to help them make a decision before they buy. Old-School selling methods provided an opportunity for the sales-person to build a relationship with their buyers that seems to be lacking in the New-School world of online accessibility to information of all types.
So, how does a sales-person adapt to New-School methods of selling?
Become a well-known and visible Expert or Authority on the subject of what you are selling. You can do this using various online tools easily available to anyone with a little drive and effort.
Here are a few suggestions:
Write and Publish a book and eBook on your  expertise.
 Become a Blogger with a narrow niche subject associated to your expertise.
Create an eMail auto-responder with a short course in your topic specialty.
Create an online e-learning course in your expertise area
Adopt a auto-nurturing contact management application to keep in touch with your leads.
Combine your online efforts with live event presentations to reinforce your expertise.
Start a public speaking career to get in front of large audiences and promote your book to enhance your "authorship"
Tweet and post in social media tips on your expertise topic.
Use these and other methods to demonstrate your experience in your specialty field and you can eventually earn the respect of your target audience who will then see you as a trusted adviser who can guide them towards a smart purchase.
Once you have achieved this status, selling becomes infinitely easier and more productive as you are now filling the role of serving your customers with experienced advice rather than trying to persuade all the time.
If you would like a little advice on how to set up and implement all these details, contact an Internet Sales Consultant.
---
Howard writes, speaks, and consults about sensible selling using the new media reality.

If you like this article, please +1 and share it with others…



If you liked this post - you might also like these: