OK, so now you've got a Website? What Next?
So many times I encounter people that get a WEBsite or an eCommerce site and now expect that the world will come knocking on their door and/or start ordering their products or services in mass numbers.
Why is this such a popular expectation?
It makes about as much sense as creating a retail store in a business area side-street and expecting sudden success. Nobody even knows you are there or what you are offering. Unless, you are located in a very highly trafficked area and have great signage and enticing store-front displays with lots of foot-traffic walking by your store, you will probably not generate a whole lot of shoppers in your store.
Now is the time to start Advertising, Promoting, and Marketing Activities to build traffic!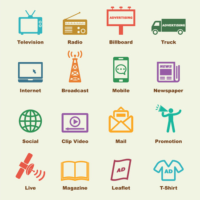 It is an essential element to creating business sales. It does not just "happen". You need to create a Strategic Marketing Plan, that will include defining and targeting your most likely customers with interesting and enticing Ads and/or Promotions that will bring traffic into your store to see and sample your goods and services. Then, just maybe, some of them will become convinced to actually purchase from you.
An effective Marketing Plan will include many different forms of Media and Prospective Customer Engagement.
A Few Suggestions from an Experienced Entrepreneur…
Over the past 5 decades, I have opened many retail type businesses and been faced with the same challenge as starting a new "online business". The usual methods I used to generate traffic were Radio, TV, Billboards, and Direct Mail. There are comparative types of advertising methods for online businesses that you can use in addition to these "old school" media channels. Use your imagination and spread the word by sharing your new online business location (URL) everywhere you can. A few ideas might be:
Business Directories
Google AdWords
Facebook Ad Campaigns
Twitter Campaigns
Website Display Ads
Simple and FREE Back-Linking by posting on social media and Blog Forums with a Link Back To Your New Website, whenever it is appropriate and NOT SPAMMY.
Create today's version of "Word Of Mouth" by engaging with others online and encouraging your existing customers to post a "review" of your products and/or services on well-known review sites, such as Yelp and Facebook.
"Build it and they will Come" does NOT WORK !
You must take initiative and Build Traffic through Pro-active efforts on your part to succeed with an online business or eCommerce store. You can do-it-yourself or you can hire an online advertising agency that "knows the ropes" to do it for you.
Hard Work, smart marketing, and effort DOES WORK !
If you can find the right combination of ingenuity and, advertising investment that will return sales in greater proportion to additional "ad spend", it then becomes a matter of turning on your cash register by simply increasing your "ad spend. You will then be rewarded with a "scale-able" and successful new online business. Do a good job and this new business might also become very "sale-able" and help you achieve your "big sale" and move on to retirement.
---
Howard writes, speaks, and consults about sensible selling using the new media reality.

If you like this article, please +1 and share it with others…



If you liked this post - you might also like these: