Selling With Permission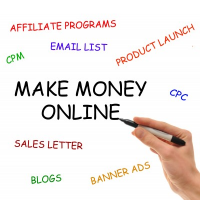 Do you think I really care? I get enough spam. Why do I want to add you to the mass volume of inbox traffic I already have?
Tell you what. Just give me an RSS feed button or a Twitter follow link and I will decide when I want to see more stuff from you. Until then, don't bug me, OK?
Is this how you feel? Well, if it is, it's probably how your prospective customer is also thinking. How do you sincerely offer something of value in a trade to get the permission to blast someone with new information which we all know is for the purpose of converting you into a paying customer someday.
Unless you are offering me a fantastic value proposition that will improve my business and my lifestyle right now, I'm probably not going to be interested. So put on your thinking cap, interview a few of your current followers and customers, and get creative with your offering.
A great place to start your thinking process for your business is a post by Chris Marentis on "24 Ways To Grow Your Email List". Read it and start thinking in terms of what YOUR prospective customer might be interested in. Don't just offer another e-book or special report. Give em something to talk about. Give em some real value they can use right now.
Do I drink my own kool-aid? You betcha I do. It may not be the next killer app, but so far, it works for me, for my particular niche. Let me inspire your creativity. Find your own for your business.
Here's the deal. My driving passion is to help independent entrepreneurs, business owners, and professional service providers know, understand, and be proficient in SELLING their service, product or ideas. I want you to join my list so I can keep you abreast of all the neat ways I will continue to teach you how to sell more of whatever it is that you sell. And don't forget. Everyone is selling something.
Here's my offer to you. In exchange for your permission to allow me into you email inbox, I will provide you with complimentary regular (weekly) sales training. I'll make it easy for you to receive it at your convenience and easy for you to ask your personal questions about incorporating effective sales methods into your business.
I call this service Weekly Sales Call. Opt-in to my list and you will have a personal sales coach at your disposal for absolutely no charge and no obligation. If you ever discover that some of my sales training has helped you increase your personal sales or brought you a new client, I'm not offended if you either use some of my regular paid services or refer me to a friend that you think could benefit from my offerings.
Now don't just sit there. Do it now. Go to Weekly Sales Call and view the current 10 minute sales training session because you WILL get at least one good idea to use today that will improve your sales or save you some costs. I promise. If it doesn't reward you, please let me know and I'll give you a full refund.
---
Howard writes, speaks, and consults about sensible selling using the new media reality.

If you like this article, please +1 and share it with others…



If you liked this post - you might also like these: